Low Water Recovery
For Well's That Run Empty!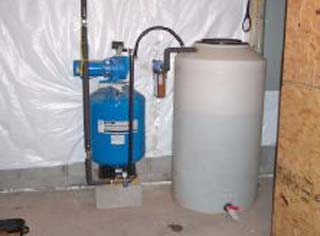 These systems are custom designed to fit each household's specific needs. The concept is simple, this system pumps your water into storage tanks and detects automatically when the well runs empty, then shuts down the well pump protecting it from burning up prematurely. Next the system turns back on with an adjustable time cycle until the well is empty again. This process is repeated 24 hrs. a day, 7 days a week until the tanks are full, then the system will shut down automatically.
There are multiple tank sizes available to fit your specific needs.
Sizes range from 165 gal to 1500 gal and larger if the need calls for it.
The average household will only need a 300 gal. capacity typically using two 165 gal. tanks together.
Contact us for more information.
View Recent Installation Photos

Northeast Water Systems Products:
Convenient, Point-of-Use Water Cooler
With Reverse Osmosis filtration system gives you safe, clean, great tasting water.
HOT or COLD!
Reverse Osmosis Drinking System
We can install in the basement to free up under-the-sink space
Bacteriostatic Water Conditioner
A whole house water filtration system, softener and conditioner
Ironmax Filter
Filter out Iron, Manganese and Sulfide
Northeast Water Systems accepts MasterCard, Visa and Discover cards
Financing also available...

Home | About Us | Products | Water Information | The Chlorine Problem | Contact Us
Northeast Water Systems, LLC
Kendall, NY
(585) 943-9225
info@northeastwatersystems.com