Northeast Water Systems Whole House Filtration
Chlorination/Chemical-Feed System
Our Chemical Feed system is designed to be a multifunction system. With this system, many water problems such as Iron, Sulfur and Bacteria can be eliminated with ordinary household bleach. We can also set up this system to remove gray clay water too.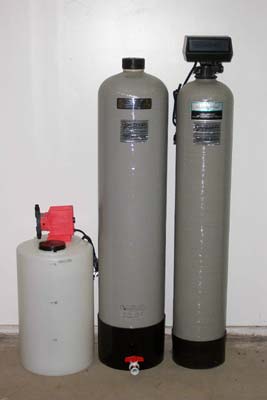 There are four components to this system:
1. Chemical Pump
2. 15 gal. Mix tank
3. Retention tank
4. Carbon tank

The process is simple. First the chemical solution ( typically Bleach and water) is injected into the water with the Chemical Pump usually before your pressure tank. From there the chlorinated water then enters the Retention tank for contact time which allows time to kill bacteria or oxidize iron and sulfur. Once a month the bottom of this tank is rinsed to remove the settled iron, sand and debris. Finally, the now treated water enters the Carbon Tank which then removes the chlorine and any left over iron and debris.

The water is now chlorine free, safe, clean and ready for use.
Although the water is safe, clean, and odor free, this system does not soften water.

CONTACT US FOR MORE INFORMATION
or call now (585) 943-9225
Northeast Water Systems Products:
Convenient, Point-of-Use Water Cooler
With Reverse Osmosis filtration system gives you safe, clean, great tasting water.
HOT or COLD!
Reverse Osmosis Drinking System
We can install in the basement to free up under-the-sink space
Bacteriostatic Water Conditioner
A whole house water filtration system, softener and conditioner
Low Water Recovery
Features an automatic shutdown and recycle for wells that run empty
Northeast Water Systems accepts MasterCard, Visa and Discover cards
Financing also available

Home | About Us | Products | Water Information | The Chlorine Problem | Contact Us
Northeast Water Systems, LLC
Kendall, NY
(585) 943-9225
info@northeastwatersystems.com